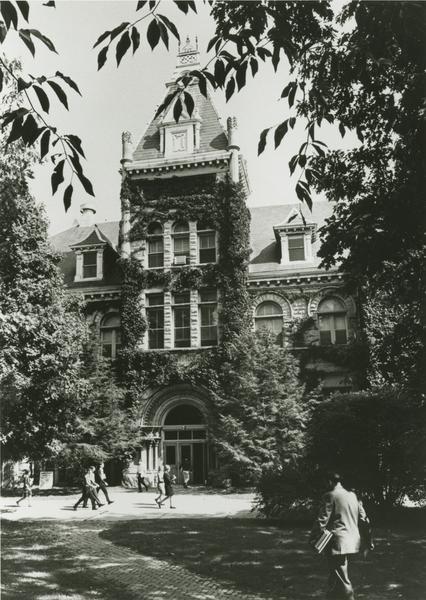 There has "always been something called 'honors' in the University," Warner O. Chapman, the founding director of the University Honors Division, told honors student Paul Lewis in a 1980s interview; but the establishment in 1966 of what is now the Hutton Honors College can be credited in significant part to the efforts of Professor Chapman and others in the 1950s and 1960s. The foundation they provided and the work carried on by so many over the years have helped thousands of Indiana University undergraduates become "active learners, informed and sound thinkers, able communicators, and creative, productive and responsible citizens."
 
In the late 1950s and early 1960s, Professor Chapman and other young faculty members in the Department of Government developed a handful of honors courses. Shortly thereafter, the Junior Division (now University Division) began identifying superior students, eligible for enrollment in a "growing number of accelerated courses and special honors sections of introductory courses." In 1966, The University Honors Division, with Warner Chapman as its director, was established with its first home being Professor Chapman's office, Kirkwood Hall 113. By the 1970s, honors course offerings grew and the University Honors Division was enrolling approximately 400 students a year.
 
In 1986, The University Honors Division moved to Haskett House, 324 N. Eagleson Ave, and a University Honors Division advising staff was officially established. A converted garage in Haskett called the Brown County Room served as a space to welcome students, faculty, and distinguished campus visitors for extracurricular events. In 1989, based on student efforts to provide service, the Community Service Program began to take shape.
 
In the early 1990s, the University Honors Division offered its students the opportunity to graduate with honors in recognition of the completion of honors-level coursework in several departments. In 1999, the University Honors Division established its first Honors Residential Community in Forest Quadrangle.
 
In 2000, IU alumnus and prominent philanthropist and businessman Edward L. Hutton granted a gift to create the International Experiences Program, which increased access to international study, research or creative activities, internships, teaching, and service for IU Bloomington undergraduate students. In this same year, the Honors Division was renamed the Honors College.
 
In the fall of 2004, Indiana University Bloomington named its Honors College for Edward L. Hutton. A cornerstone ceremony was held in fall of 2007 at 811 E. Seventh Street, where the Hutton Honors College is now housed. Staff moved into the new building in December 2008.

Today, the Hutton Honors College is led by Dean Rebecca Spang, and incoming classes are well over 1,000 students per year. The Hutton Honors College continues to award scholarships and grants to undergraduate students at IU Bloomington, foster multidisciplinary study through honors programming, provide extracurricular and service opportunities to students across campus, and offer numerous honors housing opportunities.