2024 Research Symposium & Poster Fair
Saturday, April 13, 2024
Location: IU School of Education
Call for proposals and abstracts
Submission Deadline: February 18, 2024

The Hutton Honors College invites proposals and abstracts for our annual Research Symposium and Poster Fair. The Symposium and Poster Fair are to be hosted in-person at the IU School of Education on Saturday, April 13th, and all IU undergraduates are invited to participate. Students who choose to present papers at the Symposium will be asked to speak for fifteen minutes on their work, with a five minute Q&A to follow. Each presenter will be included on a panel of students working in a similar field of study. Topics often include sociology, international issues, business, science, psychology, health care, arts and humanities, but every year the topics vary somewhat according to the abstracts submitted. A schedule of sessions will be forthcoming in March.
Poster session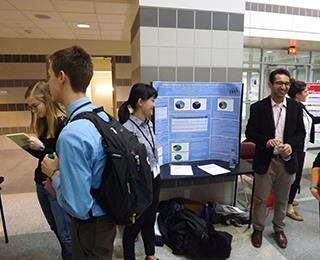 There will be a special poster session scheduled as part of the Symposium. Students are invited to present a paper or a poster, and many students present both. All IU undergraduates are invited to participate in these two events, and all IU faculty and students will be invited to attend. The Hutton Honors College will hold workshops for students who would like to know more about paper or poster presentations. Students are encouraged to present on work that is not yet complete. If you are writing a paper for a class, or conducting research for your thesis or a lab project, present your work and learn from the feedback you receive before you complete your project. Presenting will help guide your thinking as you work toward completion. Students are not asked to submit the final paper, just an abstract.
Submission
Whether you choose to present a paper or a poster, or would like to participate in both events, we welcome one page abstracts by Sunday, February 18, 2024. If you choose to participate in both events, you will just submit one abstract. Also, be sure you have a faculty mentor for your project, as they will be asked to sign off on your abstract.
Applications with abstracts attached should be submitted by February 18, 2024.
Professional experience opportunity
The Symposium and Poster Fair are open to all disciplines, including (but not limited to): visual and performing arts, humanities, social and behavioral sciences, public affairs, natural and physical sciences, mathematics, business and economics, education, and nursing. This is a great opportunity to let others see the valuable work you have accomplished, and to see what other students in a variety of fields are exploring here at IU. It is also a great chance for you to perfect your presentation skills and receive valuable feedback from faculty and interested colleagues. Don't miss this opportunity for professional experience!